Time to officially say goodbye to 2019.
But wait, that doesn't necessarily mean all of our responsibilities our going to disappear and remain a memory with 2019! Whether you had a successful year, and everything went as planned, or you know you could have done a bit better in certain areas of your life, IT IS TIME FOR A FRESH BEGINNING. No one is perfect and every now and then we need a little push in the right direction. Say hello to the perfect step-by-step of how to survive 2020 AND come out like a boss too!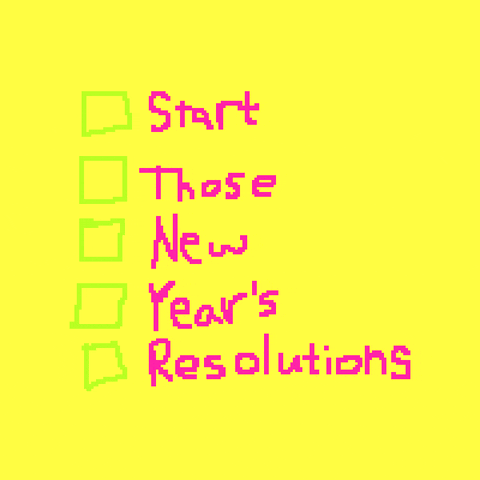 Dress for the job you want – It doesn't matter if you are going to the grocery store, ALWAYS dress to impress and act like everyone is watching (not in the creepy sense). If you truly want to be successful this method is like a cheat in a videogame! Have you ever seen a person or celebrity who completely looks like they were meant to do exactly what they are doing? That is because they dress accordingly to their personality or it was intentional. If you want to be a BOSS of your own art gallery dress like a creative genius. If you want to be a detective, dress like Sherlock Holmes. People will think you are doing a job aligned exactly how you are dressed because the energy you bring is exactly what you will receive! Sooner or later it will come to fruition.
Update your resume – The more frequently you update your resume the more impressive the outcome! There is always something to learn and achieve that you can jot down before you forget. Try using new phone apps or reminders to help you out!
List out specific goals – For example if you are wanting to get a degree then write out the steps you will need to complete to get there. Don't let anything stop you, including yourself! Here is a great format example of a detailed plan:
Be able to do the splits
Find content on how to do the splits with the correct techniques
Set a date/deadline of completion and mark it on all calendars
Stretch and warm up before attempts
Take designated times of the day to practice multiple times
Fail a lot until you make more progress
Splits!
If you prefer to use apps try Vervo for free to record and track your details of progress!
Make new connections – Connections and friends are always good to have. Whether you need a mentor or a friend, any advice from someone you admire will bring you one step closer to achieve your goals. We are here to help each other see new ideas and grow. Having a small group of friends is great, but that doesn't mean you should shut yourself off to other people now that you found your best friends. Making new friends leads to connections which lead to new possibilities! Always say yes!
Motivation – Celebrate your wins no matter how small. Positive encouragement for yourself and others are healthy! The more positivity you create in your life, the more will come your way much like a snowball effect. So, if you made it to the gym, meal prepped for the week, got up early or did a big work presentation give yourself all the credit because you are on your way to accomplishing even more!
How to be a boss – There is no simple answer to this unless you are a natural born leader. The key is hard-work, perseverance, and breaking everything down into simple steps! Here are some ideas that will help you progress towards your main career goals whether you are trying to become your own boss or just looking for small and easy improvements:
Make a vision board – Releasing your creativity onto paper is powerful and can give you enlightenment for what you are really searching for.
Have a journal – There are too many cool and nifty journals out there to not have one! Sometimes writing out all of your goals, dreams, or aspirations can bring them into the physical world instead of being stuck as "just a dream".
Utilize your phone reminders and calendar more – If you can easily access the list of responsibilities and tasks you have the more likely you will be able to cross off one by one. (this helps a ton if you stick with it I promise!)
Organize your home – No matter how much time you spend at home, if you have a clean space you have a clean mind. Declutter your space while watching Marie Kondo on Netflix or hire a maid to save some time!
Wake up earlier – I know this one is really difficult but there are some good articles that will help you with this. The reason why it is important in the case of success and boss life is to ensure that you are making the most of every hour of your life even if you are making yourself breakfast or simply doing some good morning stretches. Either way you will be prepared to kick your job's butt!
Now that you have all the proper tools to become your own boss (in corporate life or in control of your own life) be prepared to wow your friends and family with the new you! All it takes is effort and responsibility. The more you put in of both the more you will receive guaranteed. Start some new goals with XL Pro today:
Effort + Responsibility (Appearance x Resume x Goals) = Your success