5 Tips for Etiquette in the Workplace That Actually Make You More Confident!
With quotes from our team.
We have all read office ethics and orientation manuals at least once in our lifetime, these are useful for general office behavior, but we should all know most of the common office rules by now! This is not what this article is. Not only will we go over great mannerisms in the workplace, but also self-improvement advice that will teach you how to gain approachability and likeability through common office ethics and a little more!
How to be your best in and out of office – All of these tips can be a struggle for some, namely myself, but by putting in all of this extra effort, even just one a day, has significantly changed my life for the better. So, keep reading!
Putting on more makeup. While some don't really wear makeup, looks are really first impression, and you never know who's looking.
Steaming or ironing clothes. Yes, this is annoying, but do you look better with pet hair and wrinkles or without?
Eye contact and posture. It's okay to relax at work and in daily life scenarios but having these traits and practicing them can gain a lot of positive attention. Trying stretching your arms and shoulders out and look alive!
Be aware of your voice. What are you saying and how are you saying it? Try Speaking more frequently and raising your voice one notch whenever you are able. It is a good habit to practice. Say hello to the world!
Be kind.
Communication – Project and convey clear messages to either co-workers, employers, or employees. It goes a long way to know where you need to be with others and is great for teamwork. Projection, eye contact, professionalism, and posture are always great to include into your life wherever you go but in any situation just remember that The Golden Rule can always be applied: Treat others the way you want to be treated.
Professionalism – Everyone who has a job might know the phrase: being professional is how you gain success. But what does that mean? It means wearing clean and sharp clothes daily, no matter where you work. It means treating everyone equally and with respect. A tip to go with confident professionalism:
Have good posture and make eye contact. Appearance and engagement are the secret ingredients to self-improvement and success.
Attitude – One of the greatest assets anyone can have! Think about this first scenario:
A co-worker gets to work late, tired, and had a rough night last night. You see them come into the office without saying a word. They proceed to slouch over to their desk and stare into space. You ask this person what is wrong, and he/she replies with everything wrong with their night and morning all day. The same scenario happens again the next day.
The same scenario with an attitude tweak:
The same co-worker comes into work late, tired, and had a rough night. You see them come into the office and greet everyone while apologizing for the delay but assuring that there will be no inconvenience that happens due to tardiness. This person is ready for the day and you can tell by their posture. You ask he/she if everything is ok, and they reply with "I had some issues here and there, but nothing I can't work through with some time. Thank you for checking on me."
Which scenario would you prefer to work with? And who is most likely to get a promotion?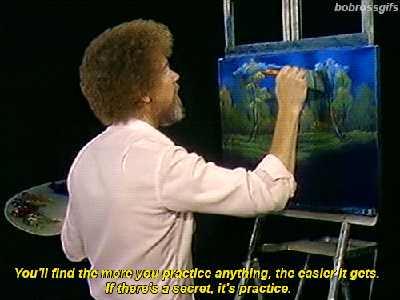 Helping out – Simple things like doing dishes, saying please and thank you, and making sure your co-workers are doing well, just being supportive (in a professional manner) can go a long way for someone. If you see something you can do, you SHOULD do it. Just because you are lazy at home doesn't mean you should bring it to your workplace! On a cleaning note, it is also important to keep you work area/desk tidy before you leave daily and don't forget to tell everyone goodbye!
By creating these habits and roles on your own, you will successfully have impacted your workplace! Maybe you have created the cleanest office space your co-workers have ever seen, and they will forever copy that behavior because they ENJOY and appreciate what you have done. Maybe you have picked up a lot of extra work for yourself because YOU know how to do it and your boss sees this behavior and promotes you tomorrow. The positive possibilities are endless if you can follow these five simple tips. But be sure not to expect any changes right away or feel entitled.
Here are some bonus tips from our staffing team at XL Pro to tell you what mannerisms are most important for their line of work:
 "Integrity. Doing the right thing when no one is looking sometimes counts the most."
"Creating a safe and open-door environment that makes people feel comfortable and welcome."
"Own your own role."
"Respecting everyone no matter what and clearing the air of any negativity in the workspace with conflict resolution tactics. Your workplace should be a happy place."
"No matter what the position is, give it your all because it will impact your workplace. Perseverance builds character."